Upcoming relocation? We can help!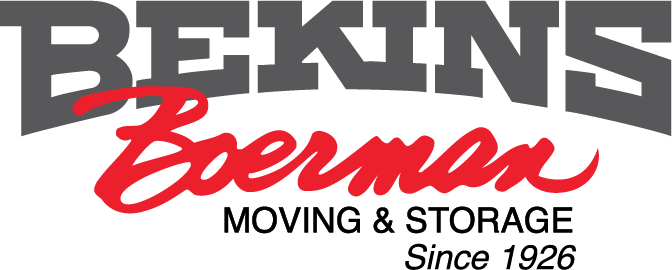 Boerman Moving In The Community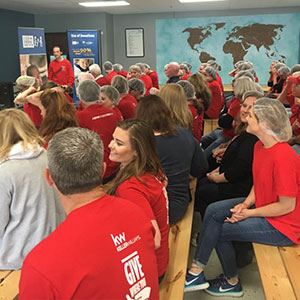 Keller Williams Red Day
Each year we honored to be invited to Keller Williams Red Day. Supporting some of our favorite Keller Williams offices in the Chicagoland area while allowing Boerman to help give back to the community as well. Introduced in 2009, RED Day, which stands for Renew, Energize and Donate, is Keller Williams Realty's annual day of service. Each year on the second Thursday of May, associates celebrate Mo Anderson's birthday by spending the day away from their businesses serving worthy organizations and causes in their communities. RED Day is just another example of Keller Williams commitment to each other and to the cities and towns where we live and work.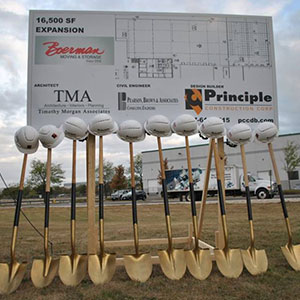 Ground Breaking
Principle Construction hosted our ground breaking ceromony in Ocotber 2017. The event was an wonderful way to start our construction process. Our warehouse expanded 16,500 square feet and our office space recieved renovations as well. Gina Cunningham (Mayor of Woodridge), Mark Kirschner (Bekins CEO), Dan Boerman (Boerman VP of Operations), and Jim Brucato (President of Principle Construction) attended and spoke to our staff, friends and family.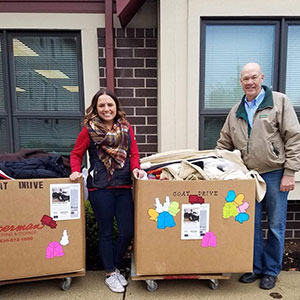 Move for Warmth
In 2014 Boerman Moving & Storage decided to start an annual coat drive called Move for Warmth. Partnering with local real estate firms and business partners we have managed to successfully collect over 1,200 coats for DuPage Pads and W.I.N.G.S Domestic Violence Shelter. Without the help from our coat drive partners this would not be possible. We are so very blessed to have amazing brokerages in our area to help with this amazing cause!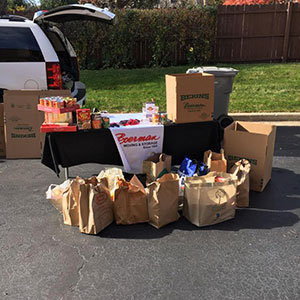 Keller Williams Shredding Event
Boerman attends Keller Williams Shredding Event at Myskontic Brewery with other business partners and many agents from the Keller Williams Office. While Junk Remedy collected electrontics and Beaver Shredding shredded documents, Boerman collected coats to donate to W.I.N.G.s and DuPage PADs and Thanksgiving food items to donate to the West Suburban Community Food Pantry.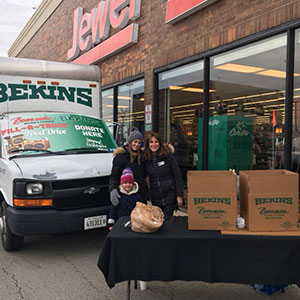 Baird & Warner Naperville @ Jewel Osco
On a chilly November day, our staff and the Baird & Warner – Naperville staff came together outside Jewel-Osco in Naperville collecting Thanksgiving fixin's to donate to the West Suburban Community Pantry. This event is hosted by Move for Hunger's Fill-A-Truck events that happen around the country throughout the year. 763 pounds of food and $257 were donated to the West Suburban Community Pantry.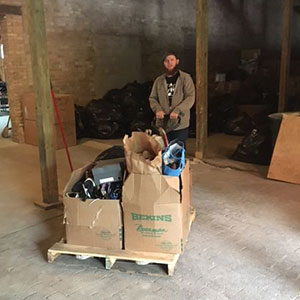 Berkshire Hathaway Hinsdale Community Day
Berkshire Hathaway Community Events is a day of community and donation to the selected charities of choice by the Hinsdale Berkshire Hathaway Office. We are honored to be a part of this awesome day that has supported such amazing non-profits as Sharing Connections, Hcs Family Services, DuPage Pads, Assistance League, Share Your Soles and many other wonderful community organizations. It is a day we at Boerman look forward to every year!!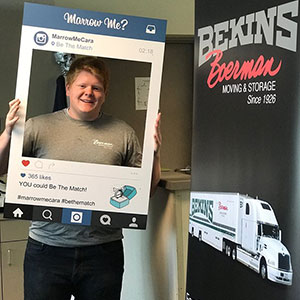 Bone Marrow Drive
In July 2017, we hosted a Bone Marrow drive through Be The Match in honor of Elaine Pagels. Many staff members and business partners were able to come out and get tested to see if they are a match for someone in need. According to Bethematch.com, only 1 in 430 tested come back as a match and we had ONE in our office! Patrick Hill, our summer of 2017 intern, matched and has decided to go on to donate his bone marrow.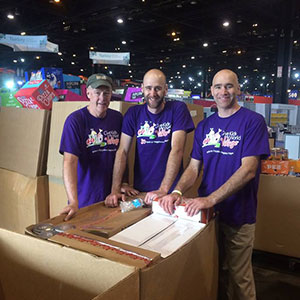 Give Kids the World Village - Orlando, FL
Give Kids The World Village is an 84-acre, nonprofit "storybook" resort in Central Florida. Here, children with life-threatening illnesses and their families are treated to weeklong, cost-free vacations. We at Boerman Moving & Storage have been honored to support the Give Kids the World mission in a number of ways. Weather it be hauling candy to the village from the National Confections Convention, assisting with rehabing cottages in the village, hauling the giant fariswheel from the Toy's R Us flagship store in Manhatan or a financial donation we are there to help and could not be more honored to help out with such a worthy cause that means so much to the children and their families at Give Kids the World.
Our Affiliations
Companies and organizations we have worked with.
Fill out the form below for a free quote.