Upcoming relocation? We can help!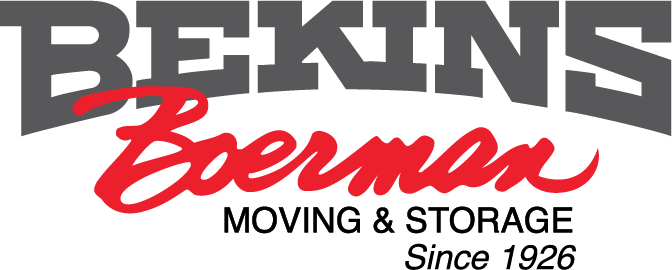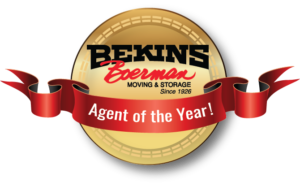 Move Out of State
With Bekins Van Lines Agent of The Year!
When you choose Boerman Moving and Storage, an Interstate Agent for Bekins Van Lines for your long distance move, you will be moving with two of the most trusted names in the relocation business.  Bekins Van Lines is the nation's oldest national van line, and was established in 1891. We take special care to provide our customers with detailed estimates, and our move consultants will visit you in your home, provide you with helpful information to minimize the cost of your move, and help you get organized.
Pricing
Your Boerman Moving and Storage/Bekins salesperson will come out to your home and provide you with a free, detailed estimate of the costs for your move. We know that every move is different so we offer several pricing options for you to choose from including:
Guaranteed Pricing
A fixed price, which cannot change unless the customer changes the items included on the original estimate.
Actual Weight
The price is determined based on the weight of the items that you are moving.
Not to Exceed
Capped maximum weight based on the estimated items that you are moving.
Based on the services you select, your salesperson will create a customized estimate which will include the transportation cost plus any other services you may need. If you'd like an estimate on packing, crating a special item or even storage, your salesperson will also provide you with those costs as part of the estimate. By having everything in writing, there can be no last-minute surprises.
Expert Packing Services
Packing can be one of the biggest challenges of your move. Consider using Boerman Moving and Storage professional packing services. Whether you select Boerman Moving and Storage professional packing services for your entire household or just for a few special items, we can help you. Boerman Moving and Storage professional packing services offer you convenience and peace of mind. Our packers are trained in packing methods to alleviate any damage during transit. We offer a full range of packing services from the complete packing of all items in your home, to partial packing services. Or, you may want us to pack your fragile items like china, glassware, mirrors or artwork. Whatever your packing needs, we can assist.
We at Boerman Moving and Storage/Bekins know how important it is to you and your family that your goods arrive at your new home safely and without damage, which is why we leave your packing experience in the hands of our family member, Jim O'Dell.  Jim has been packing and managing the packing services division of Boerman Moving and Storage since 1978.  Let "Uncle Jim" help ensure a stress free move for your family, call today to schedule your packing service.
See Jim's Expert Packing Video!
Why Choose Boerman Moving & Storage?
Tradition.
Boerman Moving and Storage has been family owned since 1926. Third generation now manages the business. Call your neighbor and discover there is a very good chance that Boerman Moving & Storage moved them.

Licensed and Insured.
Licensed by the State of Illinois to perform local moving under authority ILL CC 13080 MC. Our Insurance, safety and handling procedures exceed the requirements set by the state.

Quality.
Uniformed professional movers are trained and experienced to provide you with a quality move.

Customer Service.
Our staff is available to answer your every question before, during, and after the move.

Prepared.
All trucks are fully equipped to handle any household moving situation. Clean heavy-duty quilted pads are used to cover all your furniture and fragile items. We move houses, apartments, and high-rises while providing special handling of antiques, pianos, and appliances. No job is too small or too large. Local moving is our specialty.

Concern.
Management, staff and movers are available to handle any special requests

Value.
Wardrobes, floor runners, dollies, thick furniture pads, mattress covers and all equipment is included in our hourly rate. Charges are broken down to the nearest quarter hour. You only pay for the amount of time it takes us to move you. Personal checks are accepted as payment. Over 87 years of experience provides you the very best value for every dollar spent.

Dependable.
You can depend on Boerman Moving & Storage to be there on the day you schedule with the proper equipment and professional movers.

Reputation.
Referrals are our largest source of business.

Our Guarantee.
You have our guarantee that we will make every effort to satisfy your needs on your move.
Fill out the form below for a free quote.