Upcoming relocation? We can help!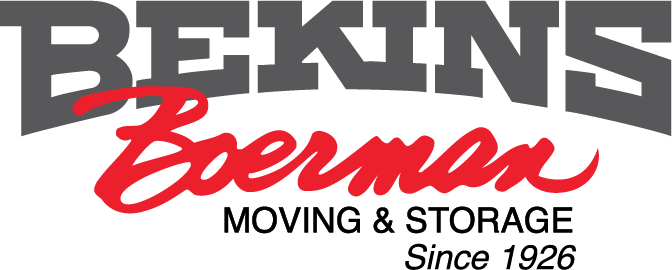 Moving Locally?
A successful household move begins with planning.
Start Here
Boerman Moving and Storage can help lay the groundwork for a successful move with a professionally-prepared moving plan that saves you time and money.
Moving Out of State?
Bekins Van Lines is the nation's oldest national van line, and was established in 1891.
Start Here
When you choose Boerman Moving and Storage, an Interstate Agent for Bekins Van Lines for your long distance move, you will be moving with two of the most trusted names in the relocation business.
Bekins Van Line Agent of the Year and Chicago Land's Premier Movers!
Our Mission
Our mission at Boerman Moving & Storage is to provide value-added relocation services whether it be a local move in the Chicagoland area or a move across the country.  You can count on customer satisfaction!  Our objective is to continuously improve our work process to enable us to meet our customers' requirements the first time, every time.  Looking for the Best Hinsdale Moving Company, Naperville Moving Company, Glen Ellyn Moving Company, St. Charles Moving Company ?  Look no further!
Call Toll Free 800.323.3048  or  call 630.972.1000 if you're looking for the best Naperville Moving Company, the best Hinsdale Moving Company and all Chicago suburbs. Or CLICK to start your FREE Quote! 
Have you heard us on the radio?
Our Satisfied Customers Say
"My salesperson was Trevor.  He was fantastic!  He always answered the phone when I called/or called back immediately.  The moving crew was efficient, courteous , and careful (Ryan, Antonio, Joey, Juan Dennis and Kevin).  I have moved 6 times in the last 15 years and this was by far my best experience!  Thanks so much for the great service!"
"The guys were awesome, courteous and fun.  They are great at what they do and were careful.  Everyone in the business office was extremely helpful and always very kind."
"I cannot begin to tell you how happy I was with the crew that took care of me on moving day.  From the minute they got off the truck(s) they introduced themselves, shook my hand and those of my helpers…they did not stop until the job was done and each one did their job with a smile (and sometimes a song).  I am very impressed!  Thank you for an amazing job!"
"Thanks for moving my treadmill and elliptical!  Great service from your mover.  I will continue to refer you to all of my clients!"
"Excellent service. Packing, moving and delivery was all perfect. The people were courteous and all on time."
"Both the men that loaded and unloaded the moving van were courteous and hard working. I appreciate their friendly, positive attitudes."
"Teams were great! Very skilled and experienced, patient, efficient, good humored."
"I have recommended Boerman to my friend who was very satisfied and my cousins who are moving later this month."
"I would like to say a special thank you to Trevor Turvey. He was exceptionally helpful and great to work with."
"The crew was wonderful. At the end of the day they were family!"
"Awesome service. Terrific. Could not be improved in any way"
"Joe was great very efficient and courteous Movers were excellent kind courteous and helpful"
"The staff was very kind and considerate"
"Very courteous and helpful employees"
"Great and efficient movers,good customer service"
"The crew was very efficient and very friendly. Also thought it was nice the owner bought the crew lunch to help them through the day. Very nice touch."
"The crew inspired confidence. They said they would take care of me, and they did. Whatever I needed, they were accommodating."
"Everyone was professional, friendly, careful and helpful. The movers arrived on time and worked very hard to get the job done quickly."
"Fast, efficient and trustworthy"
"Love this company would use and have recommended them again!"
"Moving day is very stressful, especially when helping aging parents, and the men who moved them were very confident and kind, very efficient. Thank you."
"Crew did a great job, worked well together, and actually seemed to be having a good time! What a magical formula. Congratulations on an excellent job!"
"Overall this was an excellent experience. Both drivers, Brandon (origin) and Ian (destination) were great. They both had super teams, and managed them really well. I really appreciate the professionalism and good spirits of the drivers and their teams."
"Thank you so much for whole team for their efforts"
"Crew was efficient, friendly and very accommodating to our needs. Pleasure to work with. Highly recommend."
"Friendly moving crew, hard workers"
"Boerman Moving & Storage are #1 in my book!!"
"All the men were very good and very nice and very much want us to be pleased."
"Made the decision to use Bekins based on local family ownership. We negotiated fairly with a family member from the company and worked together to facilitate a pickup date. The moving teams on both ends were fabulous. The driver/leader was the same on both ends (Mark) and he was excellent!"
"Everyone we worked with, from the agent who provided the estimate for our move to the driver and his crew, was very courteous and professional, but also friendly which alleviated our anxiety about our interstate move."
"Having Jan stop by was a nice bonus! It says you really care about how the job is going. Moving was very stressful and having someone stop by felt somewhat calming."
"Everything from the initial set up to moving crew was perfection! We were so pleased with the professionalism and respectfulness of everyone we dealt with!"
"The staff is always helpful and they return messages quickly. Nice people to deal with."
"The movers were extremely polite, friendly & hard-working. They worked very hard and meticulously."
"We appreciated the opportunity to visit your facilities and pick up boxes in advance, which was very helpful with time management."
"(We liked the) attention to customer service, prompt call back and getting a live person on the phone to answer questions. Movers were efficient and professional. Made sure nothing was damaged out the door."
"Excellent. Very Careful. Quick & efficient. I have moved 12 times and this crew was the best ever!"
"Trevor was fantastic to work with. Always answers his phone and my questions"
"The guys on our job were fantastic. They were so amazing and professional all day long. Long day too and they were great from dawn to dusk!"
"All of the people who had anything to do with my move went above and beyond my expectations. Everyone was polite and courteous and treated me with respect as well as my possessions and homes. Can't say enough about all of them."
"We are very satisfied with everything, from our wonderful salesman to our delivery driver, very happy with your services. Thank you very much."
"Team was excellent. Nick & George & Richard packed our belongings carefully but quickly. They were polite and cheerful with excellent communication skills. On the delivery end, Nick kept us up to date on the traffic issues they encountered and they arrived when we expected them. They unloaded quickly, put everything where we wanted and were generally very helpful. I highly recommend this team."
"Jimmy was great. Organized, Punctual, Knowledgeable, and easy to get along with. Great experience."
"The first (and only?) reason I rated this move Excellent was the driver/mover, Anthony Lopez. He was extremely professional and kind, took time to understand and alleviate my fears of using interstate movers, communicated clearly and often and handled my belongings as if they were his own. The move went perfectly! He arrived at each site exactly as communicated and I couldn't have asked for a better experience with this driver/mover Anthony Lopez. Please give this guy a raise and do whatever is needed to keep him around! I am a VERY satisfied customer thanks to him!!"
"Richard Pryor will always be our sales rep. He consistently provides excellent care of us and never fails to answer our questions and assure us that all will be well during our transition. He's like family."
"I was so pleased with the origin driver and his helpers. Very friendly and professional. Made my day so much easier."
"Tim & Judy were very friendly and did a great job! If we ever moved again, we would request them!"
"The driver Anthony managed the crews extremely well. The packers worked their tails off. Loaders & unloader were NON-STOP until the job was done. Six GREAT employees. (I worked and managed customer service, so I know it when I see it.)"
"Sam was professional, thoughtful and extremely knowledgeable about moving. He did his best to keep me notified of arrival time for my final destination, after not being able to do so during the pick-up in Eugene, OR. He was very accommodating and is the reason why me and my family would choose Wheaton again."
Blog
Learn tips about moving, our company, and our community.
Our 7th Move for Warmth Coat Drive was a huge success! Thanks to the help from 15 local real estate offices, we were able to collect winter
Here at Boerman Moving and Storage, we always want to acknowledge all the hard work that our staff does to keep us growing. With inspiration from the book The Fred Factor: How Passion in Your
Often, people take things in life for granted and we do not stop to count our blessings, which is important now more than ever to do so. So as Driver Appreciation Week comes to an
Our Affiliations
Companies and organizations we have worked with.
Let our family help move yours!
Only takes a few seconds!